Safe Work Month
We're focusing on work health and safety through COVID-19 in October.
---
Comcare recognises that 2020 has been an unprecedented year for workplaces nationally and around the globe.
In support of National Safe Work Month, our activities aim to support employers and workers as they navigate the impacts of COVID-19 on the Australian workforce. We have seen how workplaces have adapted and updated policies to reduce work health and safety risks due to COVID-19 and even seen entire workplaces shifting to a working from home or remote work set up.
2020 has required both employers and workers to adapt very quickly – and that has come with work health and safety challenges. On this page you can find resources, guidance and information to help navigate work during a pandemic.
Work health and safety through COVID-19
The theme for National Safe Work Month 2020 is Work health and safety through COVID-19.
We know that a positive safety culture at work is one where everyone accepts personal responsibility for ensuring their health and safety and that of others. This month we are encouraging everyone to focus on work health and safety through COVID-19.
To help, we are holding webinars that will be useful for you at work, whether you are an employer or worker. The webinars are free, and everyone is encouraged to register and attend.
Mentally health workplaces
COVID-19 continues to impact many of us mentally due to isolation, disruption to routine or continued uncertainty in what's to come. Lifeline recently reported an increase in calls to their service due to COVID-19.
Around one in five Australians are affected by mental illness, yet many don't seek medical help because of the stigma surrounding it. We know that a positive workplace culture and support improves workforce participation and greater productivity. Workplaces can foster and strive for an inclusive and positive workplace environment to look after the mental health of their workers.
The second week of National Safe Work Month coincides with World Mental Health Day on 10 October 2020. The theme for this global observance is Mental Health for All: Greater Investment – Greater Access with the call to action to strengthen partnerships to ensure that investment in mental health is prioritised, particularly during these unprecedented times.
Mental Health Australia is also encouraging the important message to Look after your mental health, Australia – highlighting the importance of prioritising mental health and wellbeing during the COVID-19 pandemic.
A COVID-19 safe and healthy workplace
As some workplaces around Australia have transitioned their workers back to the usual workplace, it is important to maintain a COVID-safe and healthy workplace – this includes physical distancing and personal hygiene during a pandemic.
Our practical resources can help you maintain a safe and healthy workplace during COVID-19.
You can also view the resources tab below for all our COVID-19 factsheets and guidance, that cover topics including transition plans, mental health and wellbeing and maintaining a COVID-safe workplace.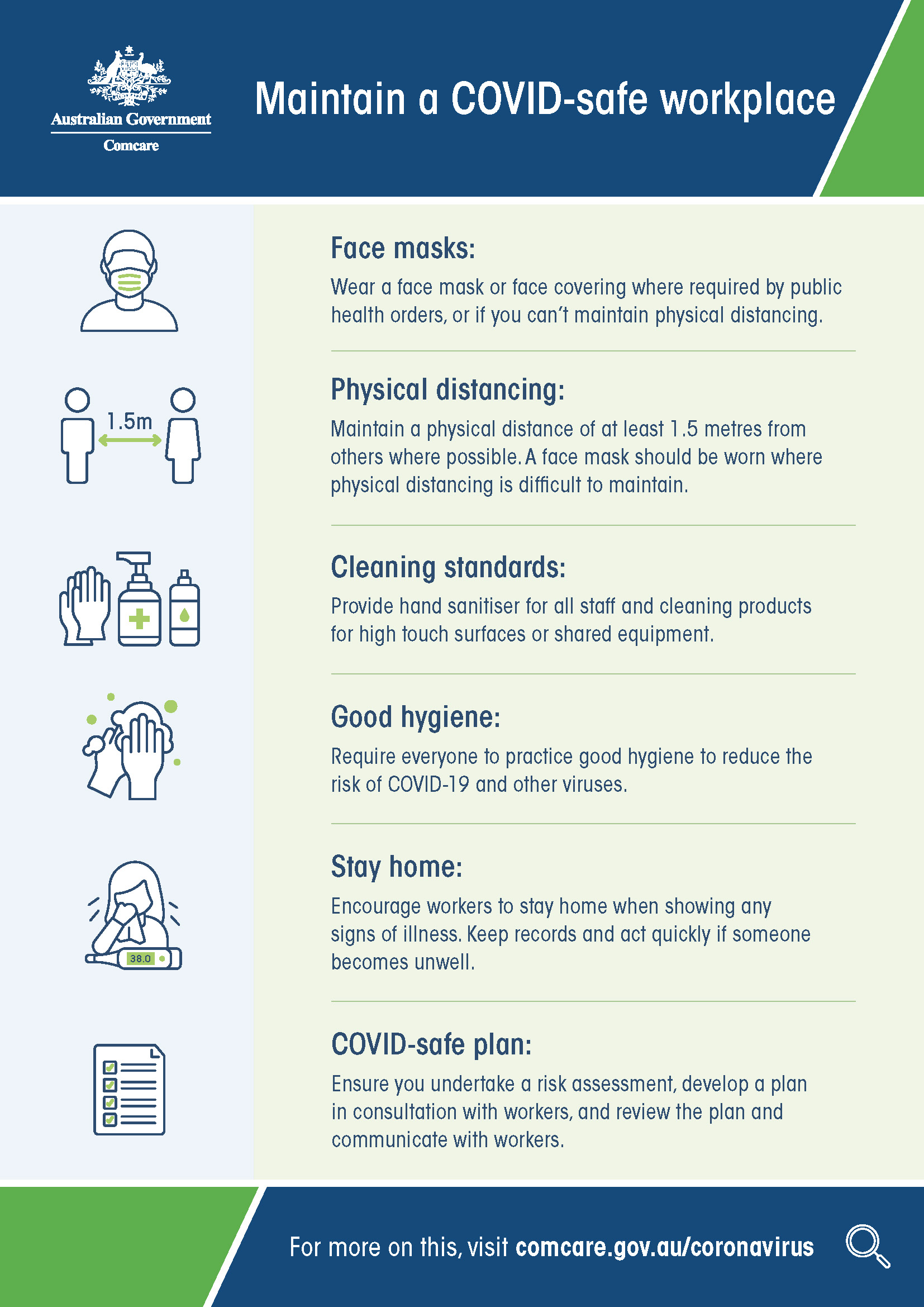 Maintain a COVID-safe Workplace poster (PDF, 366.8 KB).
Work health and safety is you
Managing risk and maintaining health and safety in the workplace is essential.
Employees and other workers also play an important role in helping keep the workplace safe and setting the workplace health and safety standards. Practical strategies such as effective communication and consultation can achieve a strong health and safety culture, while minimising injury and illness in the workplace.
In addition, a work health and safety management system is required for any workplace in Australia under the Work Health and Safety Act 2011.
We also have an interactive virtual office to provide you a tool to help identify work related health and safety risks in an office environment. There's also some useful information on managing risks in the workplace to support your commitment to workplace safety.
Leadership in work health and safety
Management attitude, behaviour and style can have a very powerful effect on workforce health and safety.
Specific qualities and attributes that signal leadership commitment and contribute to a good health and safety culture include:
Trust – important for many organisational variables such as quality of communication, performance and co-operation.
Communication style – communication between workers and management demonstrate a concern for safety and provide opportunities for early recognition of hazards.
Involvement – includes making a personal contribution to work health and safety consultation and frequent contact between workers, management and supervisors.
Inclusive management – people work more safely when they are involved in the decision-making process, have specific and reasonable responsibilities and have immediate feedback about their work.
Locus of control – the degree that control over work organisation and task structure is centralised is an important consideration in the culture of safety.
Investment in work health and safety promotion – Investment in these areas has been found to foster perceptions of organisational commitment and build worker loyalty in areas such as safety behaviour.
As senior leaders in the workplace can positively influence those in the organisation, we have a list of strategies that can help them perform their obligations and duties under the Work Health and Safety Act 2011. This includes:
Promoting wellbeing and intervening early
Building a strong health and safety culture
Effective leadership style
Supporting workers during times of change.
Webinars
The webinars are free, and everyone is encouraged to register and attend.
Accelerated workplace change in the face of COVID-19
Thursday 8 October, 10.30 – 11.30 am
A co-presentation by Comcare and Safe Work Australia
We will explore the rapid and large-scale changes that workplaces of different sizes and across various industries have undertaken in the face of COVID-19.
COVID-19, our work, mental health and wellbeing
Wednesday 14 October, 2 - 3.30 pm
During this webinar we will focus on and explore some of the impacts of COVID-19 on the nature of our work, mental health and wellbeing.
COVID-19, safety systems and safety culture
Wednesday 28 October, 11 am - 12 pm
Join us to explore the safety systems and emerging trends and risks.
See our webinars page for more information about Comcare webinars and resources from previous webinars.
Resources
Fact sheets and infographics
Comcare resources
Other useful resources
Page last reviewed:
30 September 2020