Schemes and Systems

Designing and trialling best practice approaches to improve work participation.


Identifying the main drivers, connections and pathways between Australia's major income and benefit support systems to identify opportunities to improve the experiences of people transitioning between systems enabling improved work participation for people with a health condition or disability.
Current Projects
Measuring movement across systems
This project will identify the relationship between various compensation and income support systems by quantifying the movement of people and using qualitative research to understand their experience.
Design and trial a transition support service
This project will design and trial a Transition Support Service for people exiting the workers' compensation sector to another system, for example life insurance, superannuation or social security.
Key findings
Australian income and benefit systems are complex, fragmented and highly disparate
There is new Australian evidence demonstrating that systems are connected, and people can flow between systems
People are most vulnerable when they transition between systems
Case management is the one service common to all systems.
News
National scan and analysis of cross-sector services that support people with a health condition or disability participate in good work
29 June 2021
Employment services help people become job ready, find employment, return to work or stay at work – the question is, how do these services operate and perform across all sectors, schemes and systems?
You might also be interested in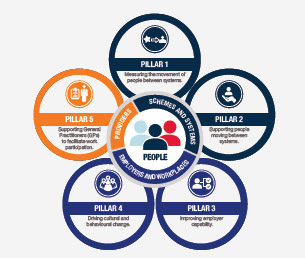 A future where good work is available to more Australians.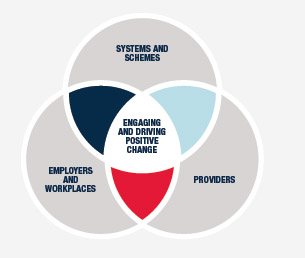 Building on our past projects and research, we will continue to drive change guided by strategic objectives, priority pillars and outcomes.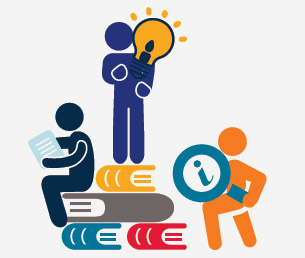 Designing new approaches to service integration, system alignment and cultural change.